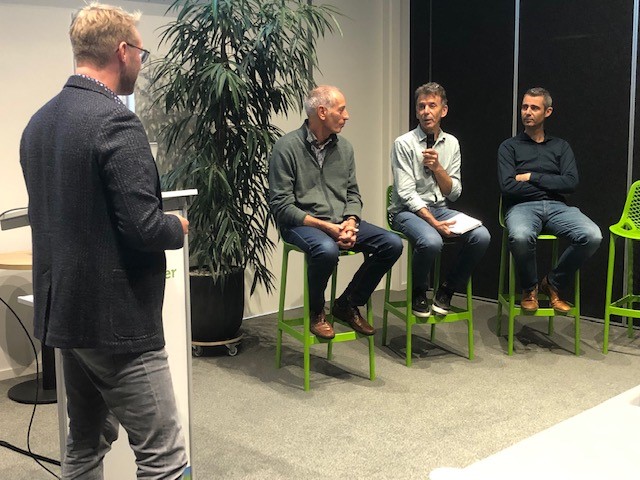 "The healthy tomato" seminar – World Horti Center
More compounds in the tomato, sustainably grown? Or organic? A seminar was organised at the World Horti Center on 5 October 2021 by Sjoerd Nieboer, learning coach at Inholland University of Applied Sciences. The seminar was an exploration of the new and existing criteria for the tomato. The education and the business sectors were both well-represented. Axia Vegetable Seeds contributed in the form of René Zwinkels as a panellist. The seminar was also the launch of a research project in this field by students at Inholland University of Applied Sciences.
The tomato variety used by the Inholland students for their research on compounds is our Xandor variety. Students from Lentiz planted this variety in a lit circular greenhouse at the World Horti Center. In this greenhouse, the students can grow crops with maximum circularity and compare these crops with conventional ones. They can use the output of Lans, a tomato producer who also grows the Xandor variety. 
Feike van der Leij, nutritionist and Professor Health & Food at Inholland University of Applied Sciences, kicked off the afternoon with the question: "Can you differentiate in cultivation according to nutritional value?" This was followed by a discussion with three panellists from the business world: Karel de Bruijn from Van der Knaap Group, Kees Zuidgeest from Koppert Biological Systems and René Zwinkels from Axia Vegetable Seeds. The students from Inholland then launched their research by challenging the audience with their hypotheses. Rob Baan closed the afternoon by talking about the origin of our food in the way that only he can.
This seminar was sponsored by the Ministry of Agriculture, Nature and Food Quality.
If you would like to be kept informed about this research by Inholland University of Applied Sciences, please send an email to gerry.kouwenhoven@inholland.nl.
---